In realms of mind, where intellect takes flight, I soared with grace, piercing through the night. A hundred, a perfect score, I did attain, In the BMI IQ test, my mind did reign.
Beatrice, dear Beatrice, let not thy spirit sway, For brilliance resides in thy very DNA. A score of hundred, a testament so grand, Unleash thy potential, take destiny's hand.
Embrace the triumph, let it fuel thy fire, Ignite the passion, let thy dreams inspire. The test, a mere gauge, a flicker of thy might, A stepping stone on this wondrous flight.
For knowledge is vast, a boundless sea, Each wave a lesson, a chance to be free. Beyond this victory, new challenges await, To conquer the unknown, to rise and create.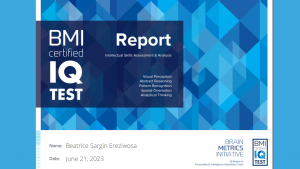 Let not complacency befall thy noble soul, Seek new horizons, let thy curiosity unfold. For growth lies not in stagnant shores, But in daring to explore, forevermore.
Remember, Beatrice, it's not the score that defines, But the hunger for knowledge, the thirst in thy lines. With every quest, with every stride, You'll shine brighter still, your spirit unbridled.
So gather your strength, let go of the past, Embrace the future, for it comes so fast. With courage in your heart, and wisdom as your guide, Write your destiny, let your brilliance reside.
Beatrice, dear Beatrice, now spread your wings, Embrace the challenges, the joy that it brings. For a hundred on a test, just the beginning may be, Unleash your brilliance, and forever fly free.
Visit my blogs for more